Our Games Are FREE And FUN.
Attention Students of my RPG Class!
If you are a student from my Introduction To RPG Programming class at http://gameprogramming.org please click on the link in the menu above to get to the course materials for the next lecture. Thanks.
What Is Shadetree Software?
Did you ever want to develop your own computer games? We did, so rather than sit around and WISH we decided to do some thing about it. First we started to look around to see what was available as far as FREE (Limited budget you know) games went, so we could look at them and see how they were built and played. So off we went to the Internet to do some research, during our research we came across 2 very EXCELLENT game development packages while looking for games. RPGToolkit and GameMaker, with these packages we were able to start developing our games right away. Best of all BOTH packages had a FREE version. If you click on the graphics below you can get furthur information on these software packages. Shadetree Software was already involved in software creation, so we just added a Gaming Division and Lo and Behold - Shadetree Software Games was born.
Visit our Whats New Link for information on our latest software.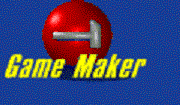 How does the Internet figure into game development?
Typically if you have wanted to play a particular game then you have had to go to a software store and purchase a box which contains CD-ROM's or floppy disks. Games are packaged this way because the data which makes up most games takes up so much space and because physical stores have been the only place to showcase them. This data can take the form of graphics, sounds, character files, help, and of course the game engine itself. Now with the gain in popularity of the Internet, gamers don't have to get a game from a physical store, they can download the games and updates directly to their computers. In some cases they don't even have to install a game on their own computer. One of the contributions of the Internet to gaming has been games which exist entirely online. It's graphics and code exist on the web and are expressed through a web browser. This means that updates are easier to distribute to fans of a game who visit a central storage for the game each time they log on to play it.




Shadetree Game Maker Community Forum!

Let Us Know What You Think. Please Sign Our Guest Book Below.